The Incredible German Soldier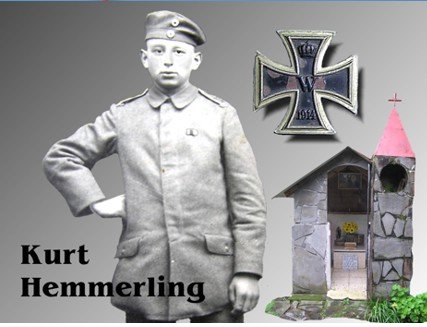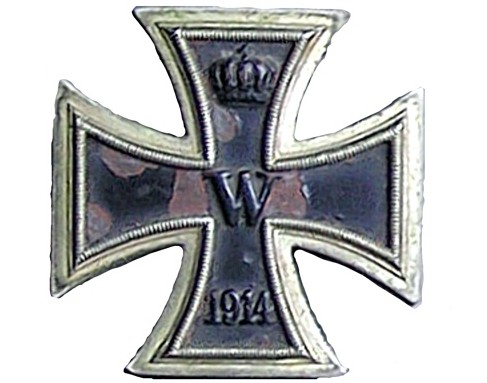 KURT HEMMERLING was born October 19th 1899, in Germany and served in the first World War. Kurt, enlisted at the age of 16 years and was wounded by an enemy bayonet-loosing his right nipple. Just 5 foot 4 inches tall, short in stature but not in valour. His courage in the face of the enemy was rewarded with German's highest award for gallantry; The Iron Cross.
This was awarded to Kurt, not by some nameless general, but by Kaiser Wilhelm himself.
Kurt came to the Volcan area by way of Cuba and Mexico. In Cuba he was threatened with imprisonment unless he used his military skills to aid Mexican guerilla fighter PANCHO VILLA.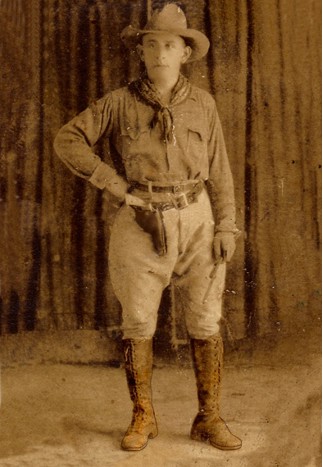 Pictured above original Bambito cabins on site where current Bambito Hotel stands.
 In 1920 he came to the Bambito area and with money sent by his close friend Fritz (slim) Kauert, he bought land from the TROETSCH family, another German immigrant family, and built cabins on what is now the site of the prestigious Bambito hotel.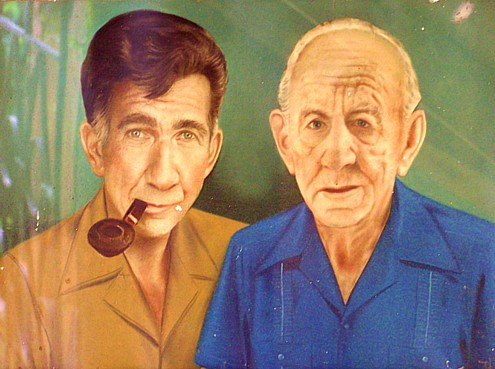 Fritz Kuaert and Kurt Hemmerling, were lifelong friends. Fritz (slim)  Kuaert stood an impressive 6 feet 6 inches tall. They regularly went on long, gold seeking expeditions. It was on one of these expeditions to a hidden gold mine in the jungles of Bocas del Toro, that Kuaert and his companion disappeared. Hemmerling went in search of his friend on five separate occasions. He found 12 places that Kuaert had been, but no sign of the adventurer or his companion. Hemmerling only gave up when he himself was injured. Kuaert had discovered a rich vein of gold near a river and only left when he ran out of supplies.
The gold vein is located somewhere in the jungles of Bocas del Toro. Exactly where, remains a mystery to this day. Fritz Kuaert's companion, Manuel (Nio) Miranda, also was never seen again.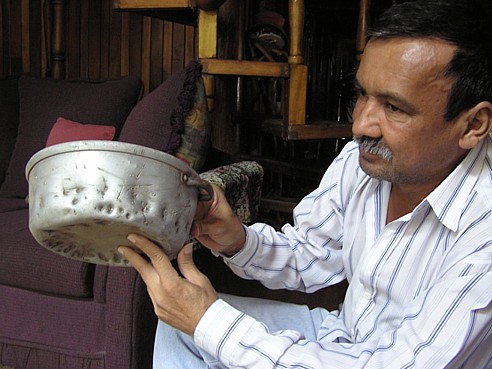 Editor Ivan Flores with Kuaert's scarred cooking pot.
Fritz Kauert's body was never found. The only evidence that Hemmerling was able to discover was a tin cooking pot. Local newspaper editor Ivan Flores and myself examined the pot and we speculated that this was possibly used by Kauert as a defence against a marauding wild animal. The pot bears some ominous scratches and possible teeth marks.  The area that Kauert was exploring is full of Panthers, leopards and possibly tigers. (In fact in another article we document the last known tiger to be killed in the Bambito area)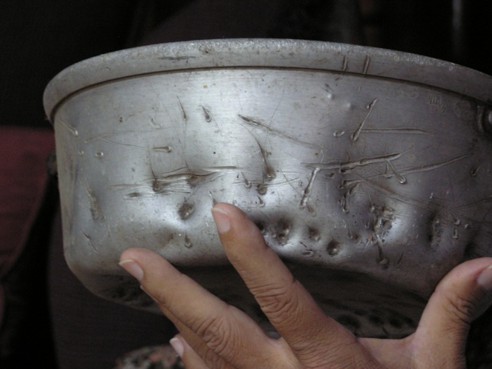 Proof lies on the wall of Hemmerling's house that wild animals do exist in Panama.
We have testimony from Volcan resident Werner Senn that Kuaert had indeed found a rich gold vein and was returning with helpers to bring the gold out. He asked Senn to accompany him on this trip and assured Senn that his discovery was so rich, that Werner Senn would never have to work again. There is a legend of huge riches that belonged to an Indian Shaman known as SUQIA. Possibly Kuaert had found the lost shaman's treasure trove. 
 Kurt Hemmerling was an avid archeological explorer. He is most probably remembered best as the benefactor that bought the famous Barriles sacrificial stone. This sacrifiicial stone was discovered by PEDRO CORREA in 1941. The stone was buried 9 feet deep, 300 meters from Sitio Barriles and close to the river.  Hemmerling purchased the stone and then donated it to the Panamanian nation.
In another article we talk about the "Lost City" and possibly the "Lost Temple" at Sitio Barilles.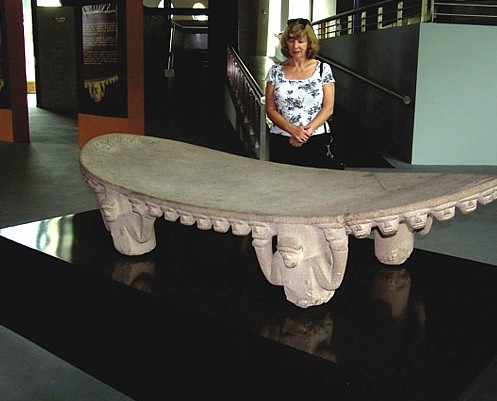 Kurt Hemmerling died in July 1982. His ashes remain in a small crypt within steps of his house. The crypt also contains a painting of him and his missing best friend, Fritz (slim) Kauert. A small plaque commemorates the day Fritz left in search of the lost quartz mine- never to return.

Kurt Hemmerling's widow Mercedes, has been in a long drawn out legal battle over the land where the current Hotel Bambito stands. Land, she claims was leased and never sold. The hotel was built by people from Las Vegas and local folklore says they had Mafia connections. They sold the land and hotel to new owners without the Hemmerling's knowledge or permission.
Note: The current Bambito Hotel owners are not connected in any way to the original builders.
Kurt Hemmerling died on July 2nd. 1982.This picture was taken in his last years with his  grandchild.
Kurt Hemmerling will be remembered for many things in his life. His ashes reside in a small memorial crypt in his Bambito garden. He fought in many battles on the fields of Europe and on the deserts of Mexico. No doubt he wished that his lifelong friend Fritz Kuaert's remains could be found and together these two old warriors would lie side by side. Sadly, the last known whereabouts of his friend remain a mystery.
David Dell
chiriquivillage@gmail.com
---